Retro Jewellery
Retro jewellery also called cocktail jewellery generally covers the period from the late 1930s to the 1940s. It was a period of jewellery history which was greatly influenced by world war II. Leading to large, bold and colourful statement pieces becoming popular. The war as can be imagined send Europe into disarray. Jewellery manufacturing firms closed down and many designers left for America to find safety. Later in the period this vaccum allowed American jewellery companies to gain market share in Europe. The war also effected the supply of platinum, leading to an increased use of gold. During this time more copper and other metals were added to gold in order to made it more affordable. This had the effect of changing the golds colour slightly. As a result rose and green gold can be commonly seen in retro jewellery along with yellow gold. During the war years, remodeling of old jewellery was often the only way to get a new piece. If exiting jewellery was to be remodeled in France at this time. Then it was normal to have a percentage of the gold content taken by the state for the war. Techniques were also developed such as the manufacturing of snake chain to make gold look chunky while using as little gold as possible. This snake chain or gas pipe as it is sometimes called was used in necklaces and bracelets throughout the 1940s. In keeping with this frugal theme, combinations of semi-precious gemstones were often set together without diamonds.
Retro jewellery is a blend of futuristic design mixed with design elements from the past. This mix of designs gives 1940s jewellery a very unique and distinct air, making it very popular with collectors. There were bright colourful designs of flowers, butterflies and flamboyant bows along with multi strand bead necklaces commonly worn. These beautiful bold designs softened the often dull almost masculine wartime fashions. Hollywood with all it`s glitz and glamour also greatly influenced retro jewellery. The silver screen brought sophistication and a playful quality to jewellery. Rita Hayworth, Lana Turner and Ava Gardner are all remembered for this air of old Hollywood glamour. Convertible pieces of jewellery were also a common feature of this period. With designs of earrings which would join together to form a bracelet and bracelets that could convert into necklaces. Semi – precious gemstones such as amethyst, aquamarine and citrine were commonly used. These gems typically used as large emerald cut stones, produced those icon bold statement pieces. Dress clips and bracelet designs also tended to be large statement pieces. Since the 1970s Retro jewellery has become very collectable. Making designers Trafari, Miriam Haskell, Corocraft, Dior, Cartier, Napier, Chanel and Monet highly sought after.
How To Date Retro Jewellery
To date antique or vintage jewellery it is best to start with the findings. The findings would typically be the pins, hinges and clasps that a jeweler will buy instead of making themselves. As these findings changed over the decades they have left us a timeline to follow. The findings are also the most obvious place to spot any repairs which may have being done over the years. After examining the findings the hallmarks should be carefully looked at. These hallmarks can tell us not only the metals purity but also the maker and sometimes the date of manufacture. The dominate themes of Retro jewellery are feminine, industrial and patriotic. The feminine styles would typically be represented by flowers, bows, ribbons, scrolls and birds. The industrial theme would normally be represented by tank tread bracelets, which have large repetitive links like tank tracks. These repetitive link chains also represented an industrial production line. Something a lot of people had to become familiar with due to the war. The patriotic theme of Retro jewellery was often represented by military type insignias such as the iconic US jeep. The trend in rings at this time was for large emerald cut semi-precious stones, such as citrines and aquamarines. Clip on earrings depicting floral bouquets, ribbons and buttons where very popular. Emerald or step cut gemstones were also commonly used clip on earrings. Ballerina brooches were a common sight in Retro jewellery. As were motifs of folded fabric, flowers, flowing ribbons and animals. Combinations of semi-precious gemstones dominate brooches of this period, providing that all important splash of colour. When it came to bracelets "the bigger the better" was the fashion of the day. Wide bracelets made from snake chain, bicycle chain and tank tracks were hugely popular. Woven and braided bracelets with large detachable brooches were also common at this time. Necklaces as with earrings and bracelets often had a convertible element to them. With pendants doubling as a brooch or a bracelet and earrings joining to form a bracelet. Snake chain and other repetitive link chains tended to be worn short, but with a chunky look. Bib necklaces were also a feature of Retro jewellery.
Illustrated below are some of the important dates of Retro Jewellery.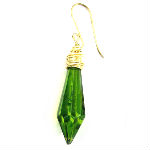 1937 – Lucite introduced by Du Pont.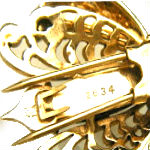 1939 – Double hinged fur clip invented.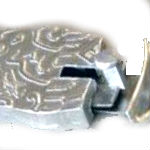 1940 – Tongue in groove box clasp.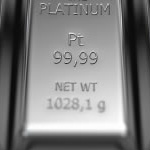 1942 – Platinum prohibited for jewellery, sterling silver used to replace it.

1945 – Mexico requires "spread eagle" hallmark on sterling silver.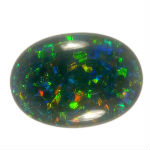 1946 – Opal doubles introduced.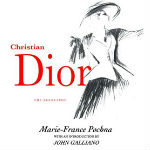 1947 – Christian Dior`s "New Look".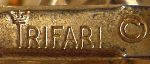 1947 – Costume jewellery manufacturer, Trifari hallmark .
You can also get in touch with Carusjewellery.com on Facebook , were you may leave any comments or questions you may have about this article.